Remember when Epiphone meant you were buying a cheap Gibson? Well that was a long time ago and in this new Epiphone DR 100 review we will discuss why Epiphone has earned its own good reputation (better than Gibson as of late) and why this inexpensive beginner guitar might be right for you.
Epiphone acoustics are selling faster than their electrics over the last decade and while they may be a symptom of an overall reduction in the electric guitar market it is also because Epiphone knows how to make a good acoustic guitar. The DR 100 is one of the best guitars we have played at the crazy low price point.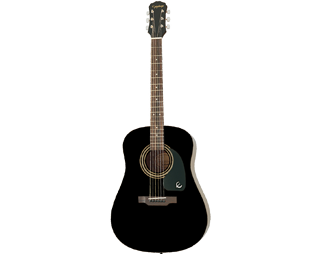 Hand: Right
Top: Spruce
Neck Wood: Mahogany
Neck Shape: SlimTaper
Inlays: Pearloid Dots
Fingerboard: Rosewood
Body Shape: Dreadnought
Tuning Machines: Epiphone Premium Tuners
String Type: Steel
Back/Side Wood: Mahogany
Number of Frets: 20
Nut Width: 1.69″
Scale: 25.5″
Bridge: Rosewood
This dreadnought guitar is Epiphones bestselling acoustic guitar, and given the volume they are working with that says a lot. With a mahogany body and spruce top the guitar immediately looks and feels like a higher grade, more expensive guitar. The neck has the Epiphone SlimTaper profile and is made of beautiful mahogany. SlimTaper refers to the neck dimensions and allows for an easier and firmer grip. Many players associate more playing speed with SlimTaper profiles but that is somewhat subjective. Your mileage may vary.
The DR 100 hardware is pretty standard fare. With a saddle made of synthetic material as opposed to bone and die-cast tuners you get pretty much what you would expect from a guitar priced between $129 and $149 USD. Despite this these Epiphones usually show up with the action adjusted and intonation set up which is much more than we expect from a beginner priced instrument. The set up probably won't be perfect, and we wouldn't expect it to be, so a visit to your local shop for a full acoustic set up might be in order. Individual guitars may vary so tune it up and take a close look when your guitar arrives.
The guitar's low-end response was slightly lacking, but the overall clarity of the DR 100 is surprisingly good especially in the high end. This means that the guitar should perform well across many styles of playing making it a great choice for beginning guitar players that may not be sure what they want to focus on. Even if you want to get a little slide guitar in you won't be disappointed.
If Epiphone wanted to created the ultimate beginner guitar in an attempt to undercut the competition in price while also providing good playability and a wide range of tonal possibilities then the Epiphone DR 100 review must state this is a success. Epiphone stepped out the Gibson shadow long ago with their electric offerings and this acoustic instrument manages to maintain the Epiphone quality with an amazingly low price tag. If you are a beginner just get one, that's all there is to say. If you are experienced and need a backup or a travelling guitar this one might be for you. It won't play like a $2k Martin but it will sound good and stay in tune and that might get you through the show.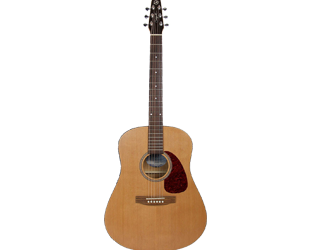 This great guitar is pressure tested and has a solid cedar top with a deep, rich wild cherry sides and back. These selected materials, combined with a precise eye for detail, makes this Seagull deliver not only a classic look but a powerful sound. The high degree of...
read more