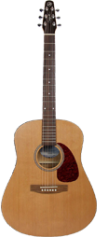 This great guitar is pressure tested and has a solid cedar top with a deep, rich wild cherry sides and back. These selected materials, combined with a precise eye for detail, makes this Seagull deliver not only a classic look but a powerful sound. The high degree of playability is obvious the moment you fret a chord and beginning players will find the guitar a great way to get started. This Seagull S6 review was a joy to research 🙂
The maple neck is a 28.4″ scale and rosewood fretboard provides smooth action all the way past the 12th fret. The bridge offers great intonation and the tuners are very precise with very little slip. This again makes the Seagull S6 great for beginners and experts alike. And if awesome playability isn't enough the guitar looks fantastic with a semi-gloss lacquer finish. You can see your reflection in this one.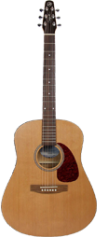 Dual-function truss rods
Modified dreadnought body shape. Bass control from shape makes it great for recording
Tapered headstock with superior tuning and less stress
QIT electronics
TUSQ nut and compensated saddle provide superior harmonics
Cedar top
Silver leaf maple integrated set neck
Laminate wild cherry back and sides
Custom-polished finish
Due to the dreadnought shape the Seagull S6 doesn't have a cutaway and offers very thin shoulders. This coupled with the smaller headstock keeps strings tight and also help keep the guitar in tune. This is also true even in alternate tunings with higher gauge strings. The bridge Tusq is manufactured by Graph Tech and this plays a big part in how well the guitar maintains its intonation over time. The Seagull S6 also boasts saddles which are rare in an affordable instrument which is yet another reason this guitar is a great buy for players of any experience level.
The neck of this beast is thick and weighty, and while this is great for tone it is also a problem for smaller hands.
This may not be a great fit for small children or anyone who doesn't want a really full neck. If you can get your hands around this thing you will like the feel and the sound but this will be a struggle for smaller hands and would probably not be a good buy.
The Seagull S6 is a great guitar for any price, but in this price range its a must have. If you have man hands buy this thing.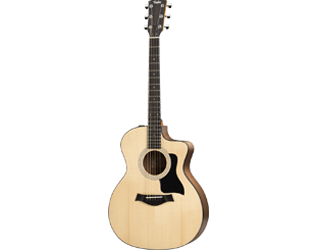 As most guitar players know Taylor is a good sign of quality, and this Taylor 114ce review is going to show that they don't compromise on this new addition to their acoustic guitar family. So how does Taylor offer their signature quality for around $800.00 when in the...
read more