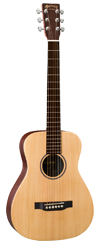 Martins are great guitars. A bad Martin is better than many other brands top of the line instrument. Our Martin LX1E review with cover this specific guitar so you can put it into context with other brands you may be shopping for.
First off this is a mini guitar. Although it is smaller than the "average" guitar do not confuse that with a kid's guitar or a beginner instrument. While the LX1E could certainly fill both of these rolls, it is a quality guitar with a price tag to match. Beginner instruments usually range from $150 to $300 while this Martin will run right between $415 and $450 USD. This is a great price given the quality of the guitar, but it should be considered a step above a 
kid's first guitar
. The LX1E might also be referred to as parlor sized or even a traveling guitar.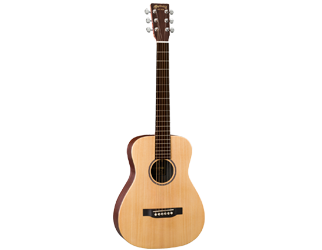 Solid Sitka spruce top.
Modified 1 Style top braceing pattern.
Inlaid Boltaron rosette w/ red fiber
Mahogany pattern HPL textured finish back and sides.
Headplate: Mahogany Pattern HPL
Neck Shape: Modified Low Oval.
Mortise/Tenon Neck Joint.
Nut Material: White Corian.
Fingerboard: Richlite
23″ scale length.
20 frets total.
Fingerboard Width at 12th Fret: 2 1/16″
Finished top
Fingerboard Width at Nut: 1 11/16″
Bridge Material: Solid Morado
Tuning Machines: Gotoh Nickel w/ Small Knobs.
Saddle: Compensated White Tusq.
Bridge and End Pins: White w/ Black Dots.
Interior Label: Gold Foil Label with Serial # and Patent #
Electronics: Fishman Sonitone pickup
This is certainly not one of Martin's top offerings as those are going to be priced at thousands of dollars. Here is a $40k 
Martin-45 Fire and Ice
. If you are wondering if it plays well I would guess yes. I wouldn't know for sure as I would never pick it up in fear of dropping it. The LX1E has a solid spruce top with mahogany back and sides. This will help keep the price below the $500 mark but also add a more rugged quality to the guitar. As previously mentioned this good for traveling and certainly campfires.
The instrument lacks the booming lows of a Dreadnaught but the tonal clarity in the highs and mids were very good. One would expect this in a smaller guitar and Martin leaned into it and made a solid, clear tone that won't disappoint.
The pickup is from Fishman and really has a punch. Plugged in this guitar really fills out the space tonally and was the biggest surprise during the review. We haven't had a lot of experience with the Fishman Somitone and I'm now a big fan. The Martin LX1E should come with a decent set up as again, this isn't a bargain basement guitar. That said while the action is low out of the box it is likely you will need to get it adjusted and have the intonation looked at. Getting the lowest action possible is a big deal and the cost of a good set up is always worth it on a new guitar. Overall the guitar is a great choice. If you have large hands you may have trouble fretting past to 10th fret so keep that in mind. For my tastes I prefer a full-sized instrument, but this Martin sounds great and the price is certainly right.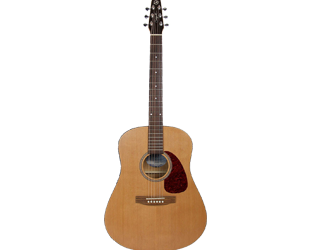 This great guitar is pressure tested and has a solid cedar top with a deep, rich wild cherry sides and back. These selected materials, combined with a precise eye for detail, makes this Seagull deliver not only a classic look but a powerful sound. The high degree of...
read more