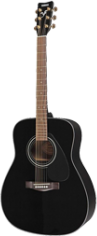 If you are looking for a guitar to take with you on your next road trip, or you know of a campsite that is in need of a fireside guitar player with a lot of heart and a questionable voice, then keep reading our new Yamaha F335 review because we have found the guitar you need.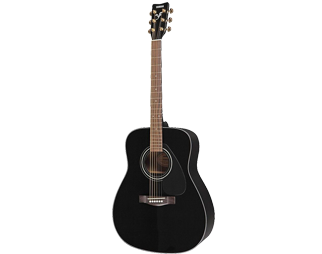 Sides: Meranti
Back: Meranti
Bridge: Rosewood
Fingerboard: Rosewood
Top: Laminated spruce
No. of frets: 20
Body Style: Dreadnought acoustic
Pickguard: tortoiseshell
Tuners: Gold die-cast
Finish: Gloss
I visited my local Guitar Center as I wanted to see it in its natural state before the inevitable chapter 11 bankruptcy that is looming ahead and I asked for a rugged acoustic guitar that wouldn't break the bank. After trying to sell me a beautiful Martin that was way out of my price range I saw a black beauty hanging on the wall. I pulled down a Yamaha F335 and began to strum. It was terrible. So I picked up the other Yamaha F335 and began to strum. It was great!
Acoustic guitars are not cheap and if you want a bad ass guitar you are going to pay for it. If you are willing to accespt a good sounding guitar without the frills then you can sometimes get a deal. The Yamaha F335 is that deal. Yamaha is know for making nice high end guitars and horrible low end starter guitars that convince many a person to stop playing guitar. Fortunately this is neither of those. This is the rare guitar that rides the line of pretty good without dipping into cheaply made and keeps the price low. Really low to be honest, I didn't need this guitar and I bought it anyway after I noodled on it for an hour. It was $159 for God's sake (prices may vary but not by much).
The guitar is cheap yes but it has a big sound and a great feeling neck. The bright spruce tone rang out all over Guitar Center confusing a young man that was playing arpeggios on a Jackson V horribly in the corner. He came over to check out the Yamaha when he was finished "shredding" and he agreed that the guitar didn't sound sub-$500 at all.
The action was bad, but I'll cover that more below.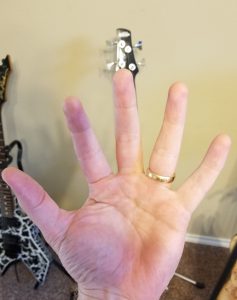 If you have giant monkey hands like I do you may find that the neck is too narrow. If you have normal human hands, or if you spend a lot of time playing electric guitar, then the feel of this neck will be something you are used to. If you are beginner I would recommend trying out both this type of neck as well as a thicker one before you make a decision. Once you spend a little time on both I think it will be obvious which is a better fit.
I have huge hands but I also spend more time on electric guitars than I do acoustics so I didn't have an issue. Mileage may vary but at this price point if you find out a couple of months down the road you don't like it its no big loss.
I mentioned the action earlier and this guitar is going to need a little attention right out of the box. The $3,000.00 Martin plays like a dream with no set up but this little baby is going to need some. In fact with just a few tweaks this cheap guitar will play like bad ass and you will have enough left over to buy a couple more guitars. You know you want to.
After you get your new Yamaha F335 get the guitar properly setup. If you don't know how to do this fond a pro in your area. They will do the following:
Get some new strings – You don't know how long these strings have been on their and given the price point they are probably garbage. Get some new ones!
Lower the action – The action on this is way to high out of the box. Bring it down.
Tune it – Yeah tune the guitar. Come on it sounds horrible like that.
Ok, you now have a professionally set up acoustic guitar that sounds great. Head to the campfire and get to playing.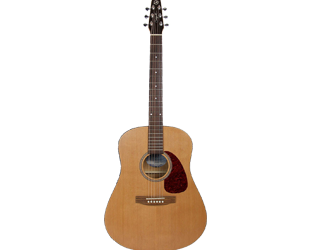 This great guitar is pressure tested and has a solid cedar top with a deep, rich wild cherry sides and back. These selected materials, combined with a precise eye for detail, makes this Seagull deliver not only a classic look but a powerful sound. The high degree of...
read more