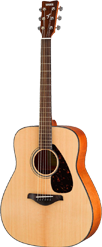 Some guitar brands try to make a premium affordable or an affordable guitar premium quality. Both efforts usually fail because you can't make a guitar something that it isn't. You see some Fenders around $700 like this and a few Taylors around $200 trying this. The problem is players know the difference and really don't care. Sell a good guitar for $200 that feels like a good $400 guitar and people will buy it. In our Yamaha FG800 review we will show that this guitar has succeeded at this.
With the FG800 you get what you pay for, and in this case, you are getting a really good guitar. Not a premium bad ass guitar, but a good one that plays well, and even advanced players could strum without getting angry.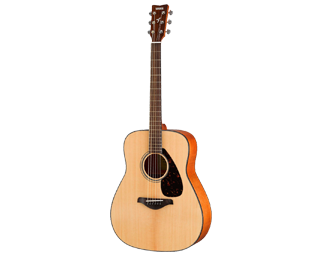 Body: Dreadnought
String Type: Steel
Top Wood: Solid Spruce
Side Wood: Okume
Back Wood: Nato
Bracing: Scalloped
Neck Wood: Nato
Binding: Black
Radius: 74″
Frets: 20
Fingerboard Material: Rosewood
Tuning Machines: Die-cast Chrome
Scale Length: 25.5″
Bridge: Rosewood
Saddle Material: Urea
Nut: Urea
Nut: 1.692″
Body Depth: 3.937″ – 4.645″
Body Length: 19.881″
Body Width: 16.220″
The FG series in known in music stores as a workhorse that gets the job done without breaking the bank. Reliable and well-priced the FG series has been available for 50 years and looks like its going to keep going well past the 800. With a sitka spruce top and a traditional dreadnought body the instrument looks good and sounds good.
Standard die cast tuners will be no surprise and as always, they do a fine job of keeping the guitar in tune. There is better on the market but remember the price on this model. The nut and saddle are Urea and the bridge is traditional rosewood. Urea is plastic used for its resistance to erosion from string tension. This is common on guitars in this price range. As you move up in cost you will start to see bone and TUSQ bridges, but you do have to pay for it.
One thing this guitar does bring to the table is a great sound. While the guitar doesn't look flashy it does have a great tone. The body produces a rich well-balanced sound that will upstage many other lower end or beginner guitars.
The Yamaha brand has produced another workhorse and this guitar gets the job done. For beginners it is a perfect place to start. For more advanced players this is a great traveling guitar because it is rugged and strong. If you ding it up it won't be too heartbreaking because you can easily buy another one.
Out of the box this guitar is much more playable than super-cheap models like the Fender FA-100 as well it should be. New strings and a set-up are usually a good idea for any new guitar but this one surprisingly didn't need it and played very well after a quick tuning.
I hope our Yamaha FG800 Review was helpful. If you have a specific guitar you would like to know more about contact us and let us know. Even if we don't publish a full review we would be happy to answer your questions. Click here to email us.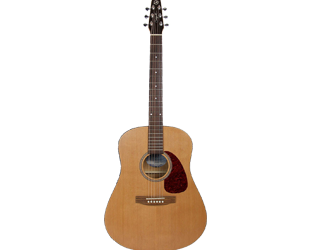 This great guitar is pressure tested and has a solid cedar top with a deep, rich wild cherry sides and back. These selected materials, combined with a precise eye for detail, makes this Seagull deliver not only a classic look but a powerful sound. The high degree of...
read more